What is Zylkene?
Zylkene® is the only veterinary supplement formulated with alpha-cazosepine, a natural ingredient derived from bovine hydrolyzed milk protein that has clinically proven calming properties to help relax cats and dogs. It acts on inotropic GABA receptors and decreases stress reactions within 90 minutes of taking. In chronic cases, the decrease in stress reactions will not be immediate, but the first effects are generally observed in the first fifteen days. In seeking to explain the infant's relaxation after feeding, a team of French scientists discovered in breast milk a molecule with soothing properties: alpha-casozepine.
Key Benefits of Zylkene:
It is non-sedating and helps dogs and cats stay calm, without affecting personality

It is ideal for short term and long term situations

Can be given with other medications

Safe for pregnant and nursing mothers, puppies and kittens

Easy to give and highly palatable
Improve the quality of life for pets and their owners with Zylkene:
Zylkene helps pets adapt to changes in their environment

Zylkene helps pets cope with unusual situations

Zylkene increases pets' receptivity to behavior modification training

Use Zylkene as the first line of defense against mild to moderate stressors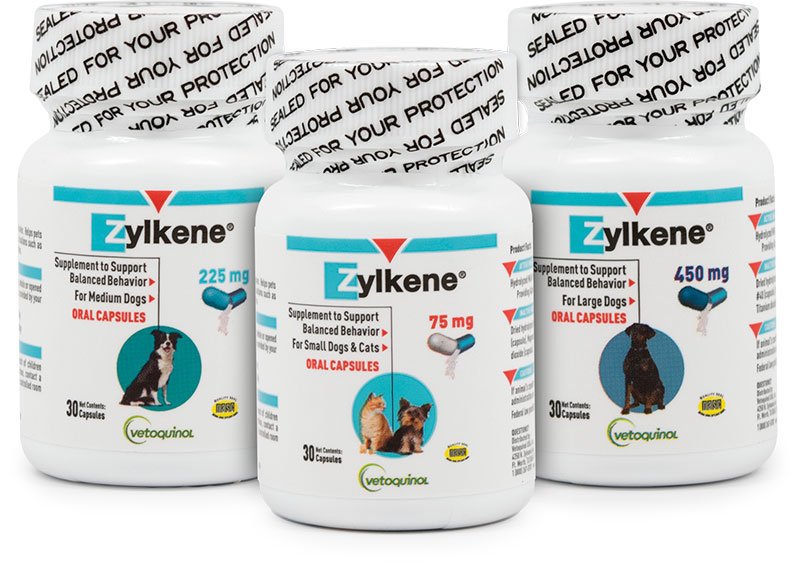 Zylkene® comes in 3 strengths to adapt to any sized dog or cat.
Dosage Information
To prescribe for short-term use: Begin administration of Zylkene 1-2 days before the anticipated event or change in environment. Some animals may need earlier administration (5-7 days). Administer Zylkene before the pet can anticipate the change in environment or event.
To prescribe for long-term use: Administer Zylkene for 1-2 months and then reassess the dog or cat. A pre-exposed animal may take longer to respond to Zylkene. Association with a behavior modification program and environmental management may help in these situations.
Palatable and
Easy to Use
Once-daily administration supports compliance:
Capsules contain a palatable, odorless and tasteless water soluble powder that appeals to both cats and dogs

Capsules can be given whole or opened